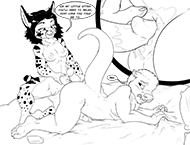 Click for full sized
$805 – $2000
New pic every $200
Page 4 Shown
Larger size linked below
Want to see more of happened with Manila and Anthony once they made it to the bedroom? Want to help cheetah still have a vehicle to drive? Transmission is dead in my truck.. Desperately babying it to stay going but yeah no reverse and no 2nd or 4th JOY!
See previous months here:

March 2014
Sari Strip Flash
March's Sari Bonus
April 2014
Jo School Girl Flash
Level 9 Bonus Pic!
Level 10 Super Bonus Picture!
May 2014
Manila Milfy May Flash
Level 10 Bonus Picture!
June 2014
Tier 0 – Tier 1 – Tier 2
Tier 3 – Tier 4 – Tier 5
Bella Bonus!
July 2014 – Patriot Lana
Tier 0 – Tier 1 – Tier 2 –
Tier 3 – Tier 4 – Tier 5
Lana and Jim (Grin n Bear it Sneak) Bonus!
August/November 2014 – Jim
Tier 0 – Tier 1 – Tier 2 – Tier 3 Tier 4 – Tier 5
Tier 6 – Tier 7 –Tier 8 – Tier 9 – Tier 10
Bonus Poll Pic! (Jim and Lana
Jessi THTSH! Dec 2014
Tier 0 – Tier 1 – Tier 2 –
Tier 3 – Tier 4 – Tier 5
Jessi Bonus Picture!!
Scarlet THTSH April 2015
Tier 0 – Tier 1 – Tier 2 – Tier 3 – Tier 4 – Tier 5
Scarlet Bonus!!
Joyce May 2016
Tier 0 – Tier 1 – Tier 2 – Tier 3
Tier 4 – Tier 5 – Tier 6 Tier 7 – Tier 8 – Tier 9 – TIER 10 BONUS
Bella – Alexia (Style Wager)
Tier 1, Tier 2, Tier 3
Manila and Anthony help fix a truck!
Cover – Page 1 – Page 2 – Page 3 – Page 4